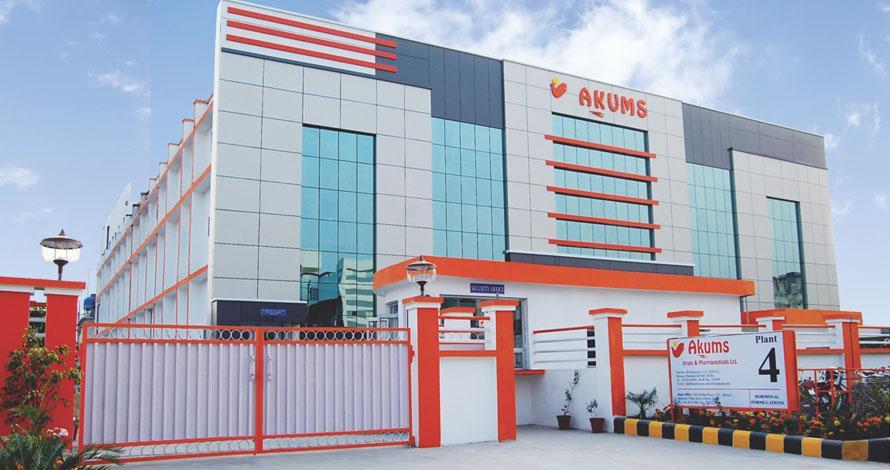 Akums Drugs And Pharmaceuticals Limited
304, Mohan Place, LSC Saraswati Vihar,
New Delhi 110034
Delhi
India

ENSURING HEALTHIER, HAPPIER LIVES
About Akums
Akums Drugs & Pharmaceuticals Ltd,  Haridwar, (India) is the largest contract manufacturing pharmaceutical company of India. The organization deals in the manufacturing and export of formulations in a wide spectrum of dosage forms & therapeutic segments. The company is currently supplying to almost all Indian and multinational pharmaceutical companies across the globe. The 10 state-of-the-art facilities are dedicated to oral solid dosage forms (with separate units for beta lactum and non-beta lactum formulations), Oral liquid dosage forms, Sterile dosage forms (Injectable, eye, ear & nasal), hormonal (oral and injectable), Ointments & cosmetics, Ayurvedic, food supplements & nutraceuticals and animal health care.
In a span of few years, the organization has become the icon of Indian Pharmaceutical manufacturing industry and currently manufactures around 9% to 10% of the country's total medicinal requirements. With creme-de-la-creme of dedicated pharmaceutical personnel and standardized practices, Akums has been successful in attaining national and international accreditations and building trust on Efficacy, Safety & Quality. The organization is certified with WHO-GMP, ISO 9001 : 2008, ISO 14001:2004 certificates and various international accreditations, like; ANVISA, Brazil, NAFDAC, Nigeria, FDB, Ghana, PMPB, Malawi amongst others.
About the Premium Manufacturing Facilities
Akum's existing 10 state-of-the-art manufacturing facilities have been conceptualized keeping in mind the new era technology. The team at Akums adheres to international standards in our ultra-modern plants to produce world class formulations in all dosage forms across segments. As a contract manufacturer, the company has a huge capacity in all sections to meet the customers' requirements. The organization provides best quality products with most sophisticated and modern equipments, ensuring timely deliveries.
Highest Quality at Akums
With utmost focus on quality, Akums employs the best of industry's technical officials in its QC, QA, Production & Product Development Department. The organization is dedicated to provide high quality formulations under all parameters of medicines. The manufacturing facilities & laboratories at Akums are equipped with ultra-modern machineries, highly sophisticated equipment's & instruments. Highly qualified & experienced QA officials assure strict regulatory and process compliance. Well-equipped QC Department ensures highest compliance of quality standards. The company's continuous proactive efforts on the present and future needs of market are dedicated to meeting the customer requirements and satisfaction levels through consistent development of Technology, Quality & Packaging.
Innovative Culture at Akums
Akums as an organization aims to achieve excellence through innovation, by being a fountainhead of new technical ideas generated through regular customer interactions and observations. Constant and consistent efforts are aimed at improving the existing products through technological innovation with association & guidance of its valued business partners. The company's Business Model comprises improvisation in existing products, Research & Development, Formulations Development, and Development in Process & Packaging, Technological Developments, and Sustained improvement in Product Quality, Timely Deliveries, prompt & timely Service for Customer Satisfaction.